Two voyages of the Baltic Sea
Welcome to Kelsall 39 sailing. On this site the sailing program for the season can be found. There is also information about the boat, some photos etc. There's a story of the 2014 trans-Atlantic passage, and the 2019 Blog as well. There's also a facebook group.
Still looking for crew, so sailing possibilities for interested people!
The second trip (August 2019 – ongoing)
We plan to set sail on the 4th August, from Karlshamn in Sweden. Depending on the wind we will go to Poland or to Germany first.
Poland has a lot to offer, and I personally am interested to see the old trading ports of Gdansk and Gdynia. There are also many inland waterways in Poland and a trip up into the country for a few days would be great.
In the bay of Gdansk there are also some great kite-surfing spots and to make a stop there and do some riding/crashing is a definite must!
In Germany it is the region of Rugen which is the most interesting. It has some fantastic nature and some of the towns are really beautiful. Stralsund should be one such place that is worth visiting – an old Hansa trading town.
We will also do a lot of sailing – of course! Day trips, and longer legs between the countries of Poland, Germany and Lithuania. The miles sailing are about 800.
At the moment I'm looking for people who are interested in joining. I can offer a comfortable bunk, sailing experience and learning, and just a good friendly atmosphere and nice people to make new friends.
Hope to see you on board, so get in touch and we'll see what we can do!
Fair winds!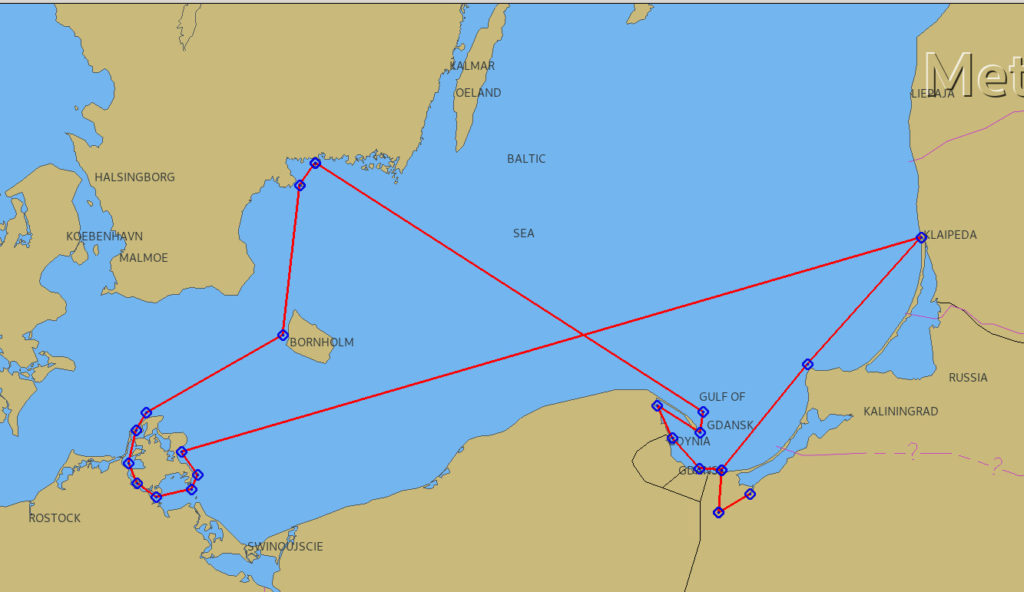 The first trip (July – finished)
The sailing takes place in July on the Baltic Sea. It includes the countries Latvia, Estonia, Lithuania and Sweden. In total it should be about 900 nautical miles of major legs, and another 600 miles of day sailing and short hops. Work on preparations begins June 8th. Launch by crane on 17th, and set sails on June 23rd!
The voyage is divided up into several smaller trips. There will be lots of different people coming and going from the boat, and everybody is welcome to join. Do you need sailing experience? No, to be on board and to learn is fine.
A big part of sailing is getting the boat ready at the beginning of the season. So come and help with preparations if you like. Otherwise get on board just before departure, it's up to you.
The boat starts off on land, close to Karlshamn in Southern Sweden. The area is not a bad place to spend a some time, and a nice part of the country if your visiting Sweden. It's in a small harbour, about 6 km outside Karlshamn, and an archipelago of little islands surround it.
Jobs and preparation
There are a few jobs to be done before the boat actually goes in the water. If time and supplies are all available, then these are the intended jobs to get done! It's mostly just the normal start-of-season jobs, with some extras.
Standing rigging, the mast and the sail control systems (3 days)
Interior improvements to galley and accommodation (4 days)
Painting the decks with new anti-slip paint (3 days)
Fitting of new electronic echo-sounder (1 day)
Fitting of new sea-water pump system (1 day)
Preparation for the season of all areas under the waterline (2 days)
Launch of the boat with a big crane and stepping the mast (2 days)
There will be more jobs to do at some of the stops along the way, which are covered in the following text. It's not essential to do any of those jobs, but it can be quite nice to have things to do for a few hours during the day.
Sailing
The cruising is divided up into different legs. It is a flexible plan, and this is all just for fun, so there are no obligations for the boat to be anywhere. Keep that in mind if joining for this sailing; don't be in too much of a hurry to get to a destination. Who knows, perhaps one of the places en route is just too nice to leave!
Also, if you hear of any nice places that you would like to make a stop at then tell me about them. We can adapt the plan and go there.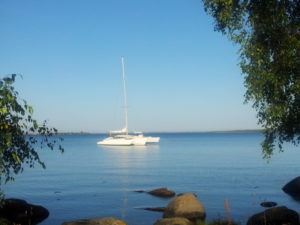 Leg 1 – Sunday 23rd June
Route: Karlshamn, Sweden to Klaipeda, Lithuania.
200 miles sailing 24 hours.
Duration at destination: 3 day
Travel-in: Airport is Copenhagen airport and then a train to Karlshamn. Alternatively a ferry from Germany (Rostock/Sassinitz) and then train.
Travel-out: From Klaipeda there are ferries back to Karlshamn for about €60 euro. There are usually cheap flights to and from Palanga, Kaunas or Vilnius. There are buses running between Klaipeda and Riga in Latvia. Riga is another international airport.
Destination: The Corinthian Lagoon is a sheltered body of water approx 6 miles wide by 50 miles long North to South. Half the lagoon is part of the Russian Federation and is not possible to sail without prior visa arrangements and other bureaucracies. The Lithuanian parts of the Corinthian Lagoon are plenty to explore where there is abundant wildlife and possibilities of going up rivers or staying at the dock in the Harbour City of Klaipeda. Miles day-sailing about 50.
Jobs: The main job-list for the period in Lithuania is sail-making and that will be outsourced to local craftsmen. Some initial sail preparation work will have to be completed, and the sail-making work may take a few days.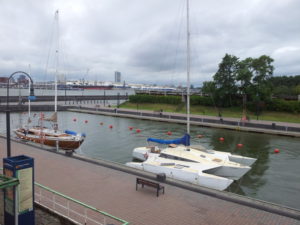 Leg 2 – Friday 28th June
Route: Klaipeda, Lithuania to Gotland, Sweden
150 miles sailing 20 hours.
Duration at destination: 5 days
Travel-in: See leg 1 Travel-out.
Travel-out: Gotland has an airport in Visby and ferries to Stockholm area.
Destination: Gotland is a beautiful island, and in July it is usually lovely and warm. There are historic sites to visit, as well as the famous Visby. Some day sailing and anchoring in different bays will take place. The "Gotska Sandön" to the North of Gotland is well worth a visit too. Miles day-sailing about 150.
Jobs: Smaller paint jobs and possibly a few composites jobs depending on the weather.
Leg 3 – Thursday 4th July
Route: Gotland, Sweden to Stockholm, Sweden
60 miles sailing 10 hours.
Duration at destination: 5 days.
Travel-in: See leg 2 travel-out. It will be hard to join on the day of departure because of remote location of the boat at this time.
Travel-out: Stockholm has airports Arlanda and Skavsta, as well as train, coach and hitch-hiking connections.
Destination: The capitol city of Sweden. Lots to see and do. Plenty of waterways and harbours to visit. There will be day sailing with the intention of going as far as Roslagen Archipelago to the North of Stockholm. Miles day-sailing about 100.
Jobs: possibly buy parts second-hand, or pick up yacht hardware at the chandlers. Outrider hatches could be painted. Fore-hatch needs some carpentry work. Aft cabin painting. Possibly preparation for painting inside the outriders.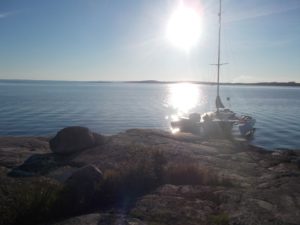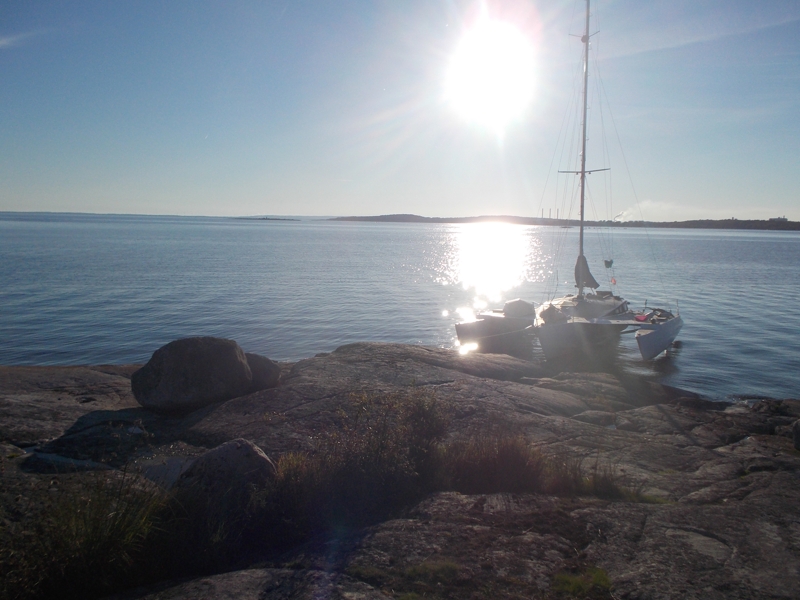 Leg 4 – Wednesday 10th July
Route: Stockholm (surrounding archipelago), Sweden to Gulf of Riga, Latvia
150 miles sailing about 24 hours.
Duration at destination: About 6 days.
Travel-in: see leg 3 travel-out
Travel-out: Riga is a major hub for flights.
Destination: This area should be fantastic cruising and the Gulf of Riga is famous for its beautiful islands and good sailing. Miles day-sailing about 100.
Jobs: hopefully none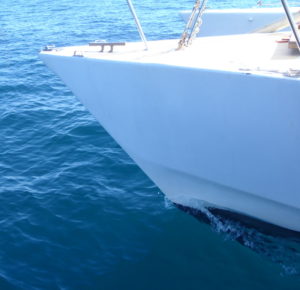 Leg 5 – Wednesday 17th July
Route: Riga, Latvia to Gotland, Sweden or Ventspils, Latvia
100 or 200 miles sailing 1 or 2 days.
Duration at destination: about 2 days.
Travel-in: see travel-out for leg 4.
Travel-out: difficult to say. Smaller airports or bus and ferry. Riga or airports in Lithuania are probably the best bet.
Destination: Depending on wind and the conditions it could be Gotland (see leg 2) or Ventspils in Latvia. Miles day-sailing about 80.
Jobs: hopefully none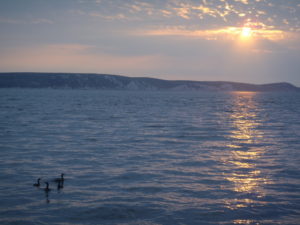 Leg 6 – Sunday 21st July
Route: Gotland, Sweden or Venspils, Latvia to Karlskrona, Sweden
150 or 250 miles sailing 2 to 3 days.
Duration at destination: 1 week.
Travel-in: see note for travel-out leg 5.
Travel-out: Karlskrona, Sweden has rail connection to Copenhagen airport. Or Northwards connections to Växjö and trains to the rest of Sweden.
Destination: Karlskrona is a pretty town on the South coast of Sweden and has many sheltered harbours and anchorages. Miles day-sailing about 50.
Jobs: the end of the big voyage 2019. There will be many different jobs to start and finish during the month of July.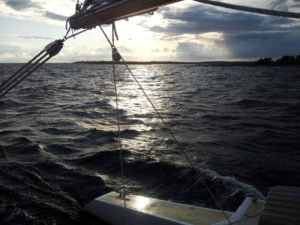 If you have any questions about any of this please contact me!
Hope to see you on board