As is quite normal, people have questions about what to pack, and what to plan for, so I thought to write a posting about just that. I hope this will work as an assurance for people joining that they are not forgetting anything, but also – as you will see – not packing too much!
Personal equipment
There's not a great deal needed that we don't already have on the boat. In this section I'll bring up a few bits and pieces that often get discussed when people talk about going sailing.
Headlamp – this is the only really "sailing-specific" thing I can recommend that you bring, don't feel like you have to, but it's quite a nice thing to have. Remember that ideally it should have a red light mode; for use at night as then it does not blind other people, or yourself.
Sailing gloves – no. Not needed. We are not doing any kind of regatta tacking, match racing kite-switching, race gybing night and day. There are enough people on board to share the work, and nobody has to fear wearing their hands out.
Sun protection – this is a big important topic that you do want to think about. Again. We will again have things on board to protect you (Mexican hats for the whole crew – joking!) It's a good idea to ware sunglasses, as well as long sleeved shirts. Just be sensible about it, first hats and shirts and then sunblock and creams.
Personal safety equipment – life jackets and harnesses are on board so you do not need to bring them unless you want to. Personal location beacons are a great thing if you have one, or better still: personal AIS transmitters. I think under the circumstances of this sailing we should not be overly concerned about wearing these. However, as said, if you have one then of course that's not a bad thing to bring along.
Sleeping bag – there are mattresses, and pillows on board. We can have sheets and pillow cases too. What could be a good idea to bring is a sleeping bag, if you want to. I do not require this. If you don't have one then let me know and I will pack an extra set of blankets or sleeping bag. Really, if you don't have one, or don't want to travel with it, then don't worry.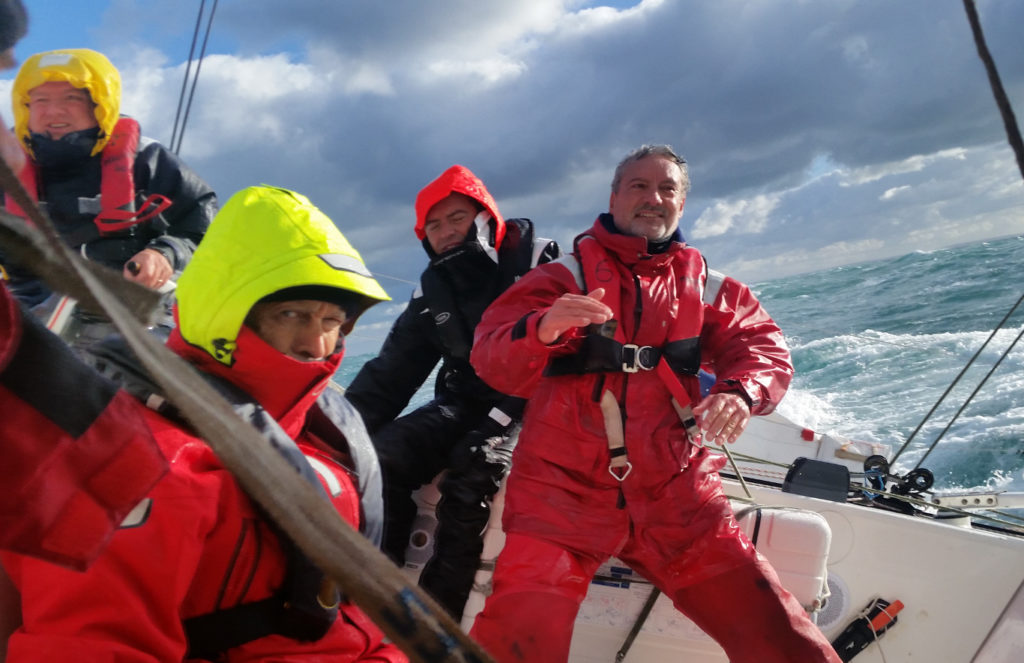 Clothes
A large proportion of what has to go in your bag when you pack for a holiday is clothes. Getting ready for an offshore sailing trip – maybe even more so! There's a few general things to consider for this 2019 trip on the Baltic Sea.
First of all I should say that not all sailing trips are like this one. We are talking about a cruising ground, and a time of year, when it's not cold, and it is not stormy. If the weather happens to be particularly bad then at least we don't have to leave harbour until it passes.
Secondly there's the duration of the sailing to consider. None of us is on board for more than a month. Also the time at sea, or cruising in remote areas, is also very limited. We can expect to find fresh water on some docks for bucket-washing clothes, and if we really need it I think even washing machines can be found.
Thirdly is that sharing is the more reasonable plan than for everybody to bring absolutely everything they might possibly need! For example, we are not all out on deck when it's raining and cold and at night. Most of us will be inside. If one of the crew outside needs an extra jacket to stay warm; we can find one to lend them. A hat. Gloves. Things like that, why not share them – because we probably wont need them that much anyhow.
Boots
I would like to talk about boots. Boots, the waterproof footwear. The image of the sailor on the ocean with salty spray flying, and the storm blowing all around. The sailor – her feet nice and warm, dry, comfortable! A pair of boots. What a dream.
Boots are not easy to share, they tend to fit on feet of quite specific sizes. Giving one boot to a friend, and keeping one for you doesn't work very well. Boots are expensive, and to find them of good quality is very, very difficult. They are also quite problematic to fit in your bag , not to mention very heavy. The good news is: you don't need boots!
Mostly it's pretty dry on deck. The surfaces can feel cold, or may feel a bit slippery underfoot. Something to put on your feet that is super easy to dry out is the best thing. Crocs for example. Surprisingly, even though they are full of holes, they keep your feet a lot warmer, wear socks in them if it's not raining – or just bare feet if it is a bit wet, because you'll never have to stay on deck for hours upon hours.
If you find that you do get really cold feet: remember the sharing thing. Somebody can lend you something to help.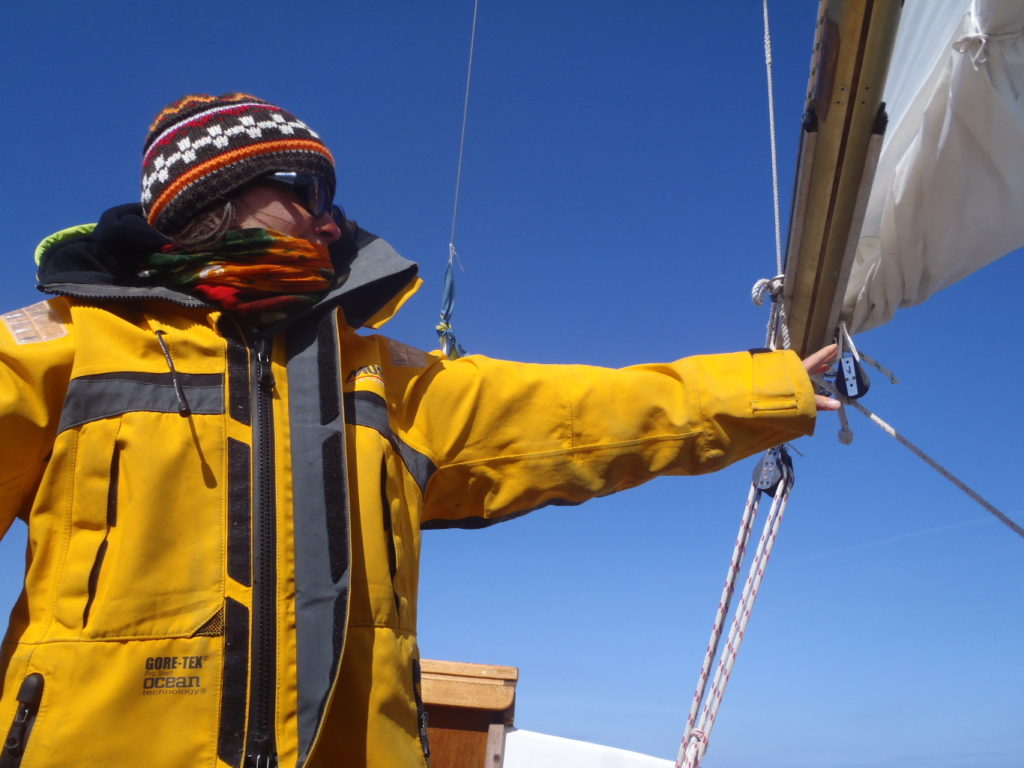 Foul weather gear
Everybody has seen the pictures of sailors with their jackets, and trousers, with flaps, pads, and adjustments and fancy panels and patches and pockets – each year a new fashion comes on display.
That's all great. But don't go buying a full set of gear just for a bit of sailing. Remember you'll have to fit it in your bag, it's expensive, and yes; it's plastic, so if you don't really need it – don't buy it! A hiking jacket can be a good-enough sailing jacket. The same goes for simple waterproof trousers, they work on a boat too!
On board there are multiple jackets and trousers, so if you need to borrow any gear then that's not a problem. I suggest bring a light windproof (not even necessarily waterproof) jacket that you're comfortable in. A hat to keep the wind out of your ears… and of course the under layers to make sure you are warm enough. Remember; if it is really wet outside, or cold, then we will sort something out to keep you warm and dry.
Basics
To wrap up this blog post I go right back to the basics on clothes. I want to talk about socks, underware, t-shirts, trousers, jumpers and shirts. All basic things we need, on board a boat as well. Take what you would for a hiking trip… what you can comfortably carry. You know: functional, basic, useful stuff.
But then, because we are not hiking – we're actually living luxuriously on board a sailing yacht – pack a thing or two extra. Maybe something nice to wear for a party, a pressed dinner jacket, and a fancy dress suit. And don't forget swimming gear because the water is warm and lovely!
That's all for now everyone! I'd love to hear your questions, ideas or recommendations, so just get in contact!