Gotland, the name of the island off the East coast of Sweden, the largest Island in the country. It has a narrow sound in the North where then the island of Fårö lies. Finally Gotska Sandön is offshore a ways to the North. These three make up the main islands of Gotland.
Gotland is a popular tourist destination, peaking in July and August. However during our week's sailing up the East coast of Gotland we found it remarkably empty of other cruisers. There's very few other sailing boats, literally only a handful. We can show up in the harbours and there's a space there for us, no hassles with reservations or the likes.
The harbour fees are in the region of 200kr (€20) per day. That's with access to showers and laundry. Key cards can be found in a little safe in the harbour, and one code seems to be used for all the harbours. Payment is largely on a trust basis.
A few of the harbours are not managed by the Gotlands Gästhamnar organisation (Ljugarn which we visited for example). If they have a different way of going about things I don't know.
Thanks to the prevailing Westerly winds this week we have also had he possibility of anchoring in a few of the numerous pretty bays along his coast.
The sea water is quite clear, which makes the eye-ball navigation and anchoring much easier. Also, surprisingly because the coastline looks so rocky, many of the bays have beautiful white sand bottom. We can take advantage of our shoal draft vessel and sneak right in close to the beaches. Basically it's to then wade ashore. It is a bit chilly in the water though, I have to admit.
The southeast: Vändburg
Our first port of call on Gotland was Vändburg in the South. The harbour we arrived to looked like possibly old navy/defence infrastructure. The one thing that isn't so great is that the docks are lined with old truck tires which rubb off on your fenders and make them absolutely horrible. I wonder what sort of polluting run-off occurs from due to all the old rubber baking in the sun, wind and weather.
The coastline South of Vändburg is a kind of shale rock (I'm no geologist so have no clue to be honest – sorry), and the sea has carved out pinacles and cliffs un t which give it a very different appearance from what I know of Sweden's Baltic sea coasts.
Another feature of the coastline in the Southeast is lots of salt water ponds (yes, the water is not salty as such but I can't think of another name for the pools). These are sometimes lovely and clear warm water, others are actually quite smelly and gray with a kind of fermenting seaweed and algae.
The mid-east: Ronehamn
We stayed for three nights at Vändburg and then sailed up Northward to Ronehamn. We left at 5AM. With full main, and twin headsails, on a deep reach the 18 miles were covered in no time.
Ronehamn is an old commercial harbour, but now very dissused except for visiting yachts, two fishing trawlers were there too, but didn't look to be much in use.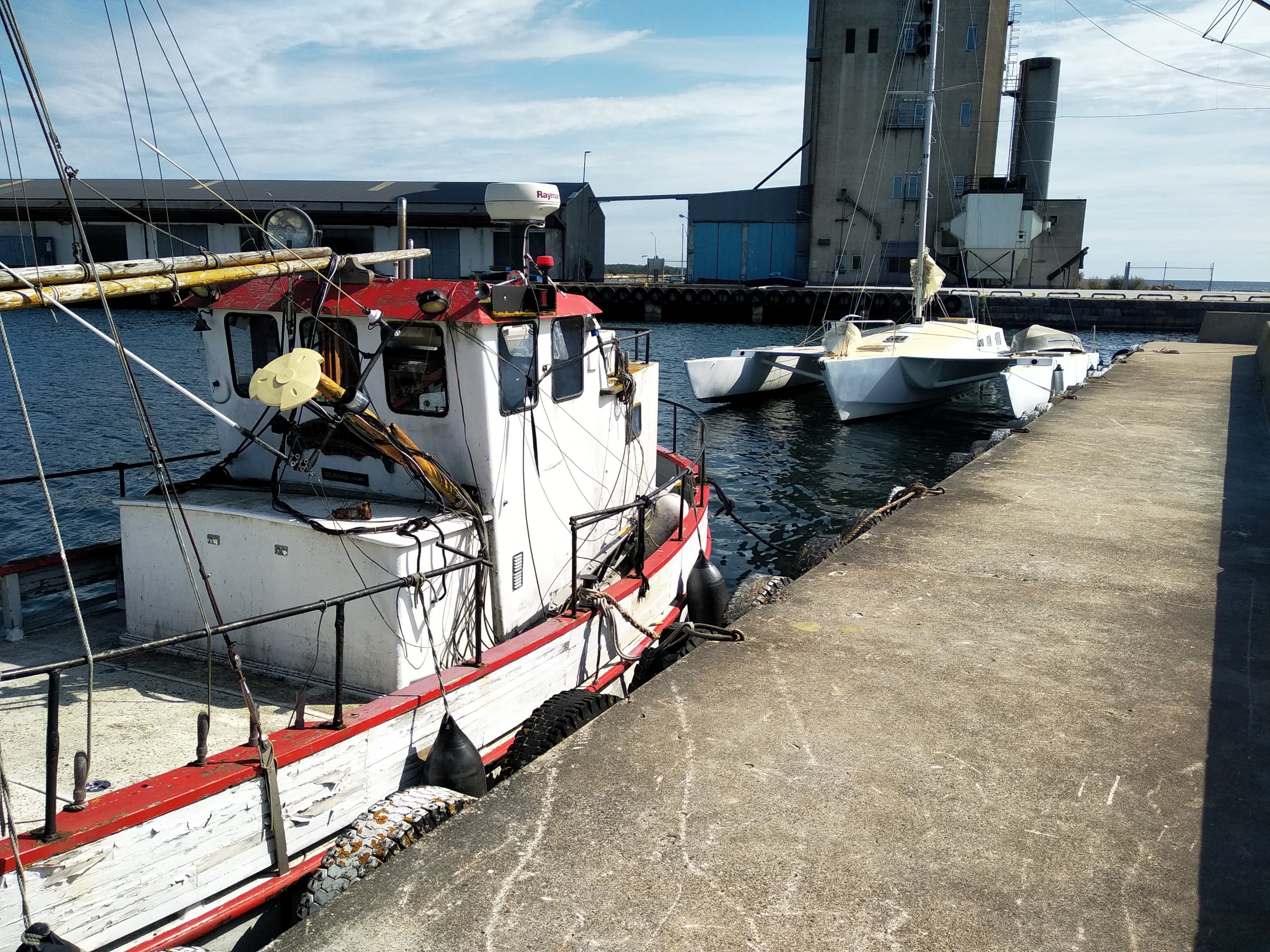 In Ronehamn too we went walking along the coast, and then inland a few kilometres. There are lots of stone cairns from the late Bronze ages (2 to 1000 years b.c.) to be found in the area. Around Gotland there are over 1200 of these constructions, but the one at Uggarderojr is the largest. 7 meters high and 45 meters in diameter. It's a big, big lot of stones, and must have been quite a project to build. Dotted all around the plains are many more and slightly smaller Rojrs.
As we had made an early start and arrived at 8AM to Ronehamn. We had ime for the 12km walk to the Rojrs, then lunch and then leave to continue North to Ljugarn, another 16 miles.
The mid-East: Ljugarn
Arriving at Ljugarn in the afternoon we decided to anchor off the old harbour in 6 meters of water. A very pretty anchorage which gives a 180 degree view of the open sea, but is protected from swell by the offlying islands of Storh, Grash and Skarph.
Ljugarn is a beach side "resort" town and has sandy white beaches to the North and South. Many pretty houses and small windy roads give it a lovely village atmosphere. There's a lot of people there but does not feel crowded anyway. This was also the first place we found a pub in Gotland and so we had to have a few beers there.
The islands we sailed past on the way in used to be used for animal fodder which was harvested then transported to land by a barge towed by sailing boats. It is quite unusual, i didn't thing sailing vessels could tow other vessels very effectively.
The northeast: Slite
Slite is situated in a deep bay and three small island offer a little shelter, besides the harbour walls which are still required to stop the waves.
Slite is the largest town we have visited and I imagine a few thousand people live here. There's an ironmongers, two fair-sized supermarkets, two pizza places, a library, hair saloon, a Thai food place, a petrol station and finally a mixed sort of everything-shop too.
The harbour has a great little matitime museum which is open long hours, free to walk in for anyone. There's a little fish bar, a few "fiskebodar", and right next door a big cement factory. It's not too noisy or bright, so can't complain.
Actually the museum deserves special mention as it's really very nice. The people working/caretakers are very friendly and it will even open on demand should you call them and ask. It has general history of sailing and ships, but also a lot about the old USSR and characters such as Ivan the Terrible before that.
I didn't take any photographs of the museum because it's hard to capture on camera, and the lighting is difficult to work with in the pictures.
The next leg
I'm posting this just before we leave for the 170 mile passage to Haapsalu, Estonia. On board we are 5 people and it's a nice group from different places and backgrounds.
The weather is windy and raining, and more arriving on Thursday evening, so we should try and get there before then.
We will start off after the wind calms and backs to the West, and at first light at 04:30.
I'll be back with another post from the sailing. When we get there.