Update to plans May 29th: The crew is full for August to sail to France. The sailing in July will more shorter trips, and instead of making a 3 week trip to Germany I will just cut that short to a 1 week trip and then go back to Sweden. This is to have more people from here in Sweden, such as family and friends… for that it is better to try and make some weekend trips locally here. Of course other people who found the boat online are welcome as well.
Hi everyone, and as promised I have worked on the plan for the summer. In this post I will explain the dates and routes which seem best at the moment. I am sorry if you are French speaking, and I will not write this post in other languages. Please contact me personally if you have any questions. Also, if anyone has ideas or has interest to go somewhere particular, then also contact me and we can maybe decide that together.
The crew planning is still continuing, and there are a lot of people interested in the trips, so I am very sorry not to give any definite answer to you right now. We can only be up to 5 people (although we were 6 on board for the last transat), so I will try to choose crew on a first-come-first-serve and fair basis to family and friends.
Now, before I introduce the dates and routes I will take the chance to answer a few questions which people sometimes have.
Common questions and answers:
Firstly, what to pack? If going for a sailing trip it can be difficult to know what to bring! Actually there is a post here on the site where I talk about this. You can read about what to pack here.
Secondly there is always the question of expenses. How much does it cost per day? This answer depends a little bit on which area which we are sailing. Eastern Europe is cheaper than England for example, and because we share all the food and marina/harbour costs that makes a difference for the daily cost per crew. To keep the long story short, what we do is that I keep a very careful note of every expense. Then as different people come and go we re-set the counter and share the costs of food, marinas, and fuel for engine (hopefully we don't use it) and that's about it. I really don't think that I have been anywhere where daily costs go above 20 euro per day, but I think it is safest to calculate about 15.
Thirdly, do you need to have experience? This question is also a very common one. I always try to explain that it does not matter if you have sailing experience or not. We organise the watches so that people of different experiences are together. The idea is to help each other and make sure that everyone is comfortable. If anything seems strange, or needs doing, then I am always close by.
Fourth, the home port of the boat is in Karlshamn, Sweden. It is a town with easy access from Europe by train from for example Copenhagen or Malmö. This is the starting point for the two trips planned for this year.
Now to the dates and first planning for sailing in 2021.
July
The main sailing season is starting in July, and I have two different proposed trips. I was hoping to see where people are most interested in going, so please let me know what you think. The starting date is a little bit later than I first planned because I am not sure about some things concerning my job.
11th to 28th (with extra sailing afterwards in Sweden)
Start and finish in Karlshamn, Sweden
Option A – going to Poland
450 miles
Windsurfing and kite-boarding perfect
Cheaper destination for harbours and food
This route is a good first trip and starts in Karlshamn, Sweden with some day sailing along the South coast. There is the town of Karlskrona which is a good place to join the boat, and if the weather is good then to make a stop at Utklippan would be nice. There is then a 170 mile passage to Poland and the Bay of Puck.
The Bay of Puck is full of sandy beaches, there is good public transport has areas of nature and good walks. It is famous for its good windsurfing and kite-boarding spots, and even if I am not an experienced windsurfer it would be fun to go there and practice. The city of Gdansk is great for parties and also is historically a very interesting place. There's some day-sailing in the area and many places to anchor, as well as pretty little harbours and places to explore.
Option B – going to Germany
350 miles
Easy to reach by train and ferry
This route goes to the island of Rugen which has both a large nature reserve and the historic Hansa company town of Stralsund. One thing I usually do is load the boat with good German beer to take home to Sweden for home parties and friends.
---
August
15th August to 6th September
Start in Sweden
Ending in Britanny or England with stops between
Because of summer being such a busy time of year I have decided to not go too early from Sweden, and instead I will have to give priority for working on the boat and maybe some shorter trips along the Swedish south coast.
The big plan is to take the boat down to France or England, and the route is divided into two parts. The first is from Sweden to Holland/Netherlands, and the second part is down the English channel to France or England (or both).
Again, it good to be flexible for this route, and I think it would be very interesting to perhaps go around the North of Denmark and through Limfjord, and also stop in the national parks on the West coast of Denmark. The alternative is to go through the Kiel canal and Germany, which is much shorter. If anyone knows more, or finds out anything about this option then please write to me and tell me what you prefer.
Part 1 – from Sweden to Holland
The departure in August is high summer. The weather is varying winds and also quite often thunderstorms. Once on the North Sea it can be important to go fast when the weather is good and try as get as south as possible. There some places to stop along the way, however it is not always the most exciting areas…. sorry to say that the coast of Germany is very boring, but maybe I have just never found the good parts. If the weather is good then it can be a good idea to stop in Holland and make a crew change or get supplies.
Anyway, to look at the options for how to get from the Baltic to the North Sea I will present two different routes.
Option A: via Kiel canal and Germany
This is the usual route to go to and from the Baltic Sea and the Atlantic/North Sea. The Kiel canal cuts off 500nm (nautical miles), instead of going all the way around Denmark and Jutland! The canal is 50nm long and is under engine. I have done that route at least five times.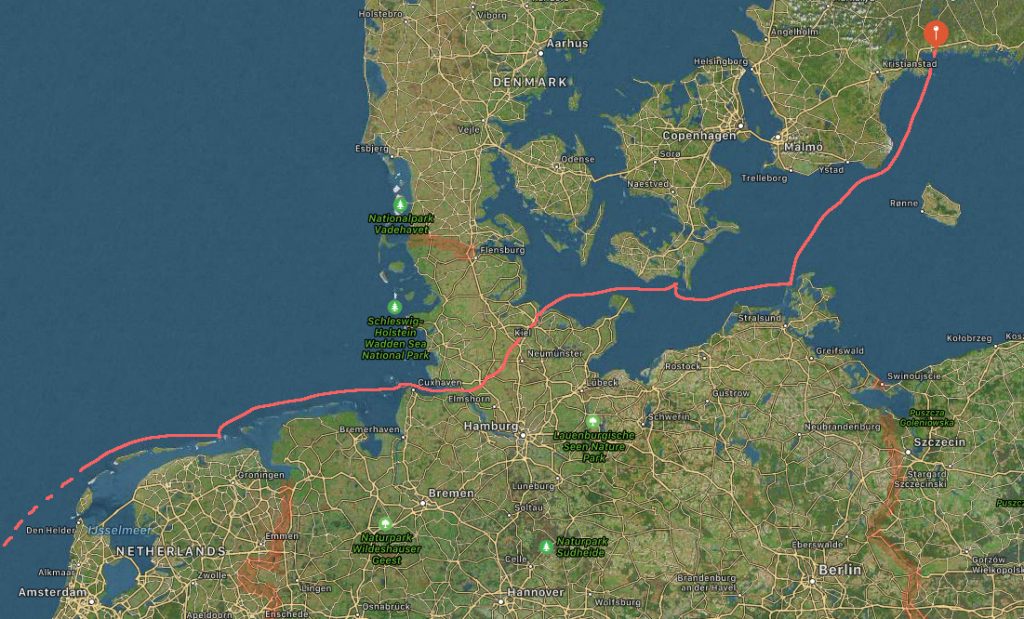 Option B: via Limfjord and Denmark
730nm
Exotic destinations and wilderness
These are all new areas for me. I have heard of Limfjord but have never been there. Also the National parks on the West coast of Denmark and Germany are new to me, but looking at information online I think it could be and interesting to check them out.
Part 2: Holland and the English Channel
There's so many places to stop in the second part of the delivery down to Brittany. This is a long time in the future and it is better to decide closer to the date where to go. It will depend on crew changes etc.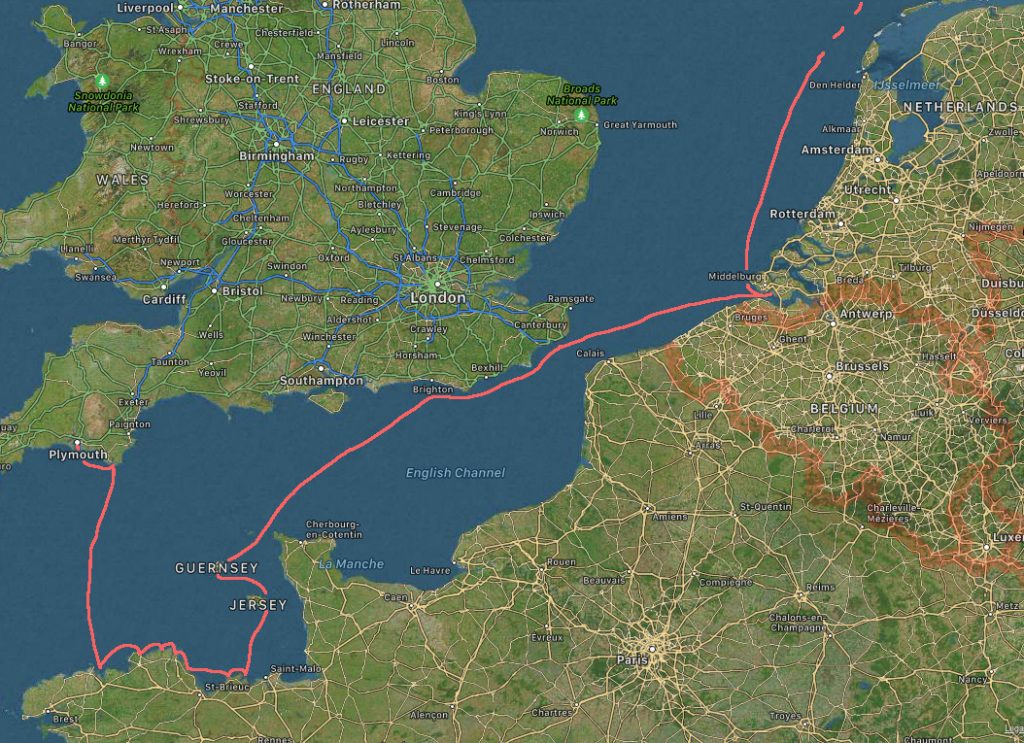 September and after
It is still not certain where we will spend the time in France and England, and possibly also Ireland. All of September and the beginning of October will be in this region of Europe. After that we will continue sailing South and stop in Spain and Portugal, to finally arrive in the Canary islands in November. The boat will not make a transatlantic passage, instead the plan is to return North in early spring 2022.
Other info
In the beginning of July, before the sailing start I have to get the boat ready. For example all of May I am working on the boat, and doing things like painting and electrics. Also, in the period between July and August trips I have work to do on a house in the forest in Sweden. I don't want to make any demands for help, but if somebody is interested to volunteer then I will provide room and all the food. It could be an interesting way to spend some time in Sweden if you are interested!
Also, on another note, and about the expenses I would like to talk more about security and safety on board. This is not part of the budget for the crew, but I must say that things like lifejackets, personal survival and rescue electronic devices, life raft and other man overboard recovery equipment is expensive, and has to be serviced regularly. This costs a lot of money. I would like to make a plan where I could at least get some help with these costs in order for the sailing project to continue and be successful. I will have to write more about my ideas for this and try to explain them so I can find out what you think about the plan.
That's all for this post. I will keep regular updates on this blog, and hope to see you this summer!
Fair winds!